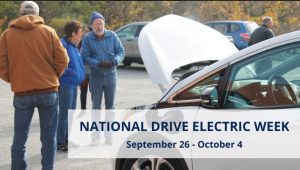 Has Germantown's new charging station made you curious about electric cars? National Drive Electric Week (NDEW) is the perfect time to learn all about them! This is a week-long national event taking place during September 26 – October 4, 2020. NDEW 2020 is especially exciting this year because most events are online, which means attendees have a wide selection of events to choose from.
Green Energy Consumers is contributing three events on behalf of Drive Green with National Grid. Please join us to learn more about electric vehicles.
Electric Vehicles 101 – Monday, September 28, 12pm – 1pm
RSVP Here!
Description: In this one-hour webinar, we will cover: the basics about electric vehicles, charging, road-trips, rebates and incentives, environmental impacts, and more! There will also be plenty of times for Q&A. We hope you can join us!
Ask an EV Owner – Wednesday, September 30, 2020, 12pm – 1pm
RSVP Here!
Description: We've recruited some EV owners to act as a panel to answer all of your EV related questions. If you're on the fence and don't know which vehicle to buy, our EV Owners can help you. If you already have an EV, but have questions for fellow EV owners, we can help you. Our EV panelists own a variety of vehicles and are excited to answer your questions. We'll see you there!
EV Experts – Friday, October 2, 2020, 12pm – 1pm
RSVP Here!
Description: Are you curious about what's going on with EVs locally? Register for this webinar to hear from state agencies, non-profits and other EV experts in upstate New York.
If you want to learn more about electric cars before NDEW, check out drivegreen.nationalgrid.us.com. Or ask anyone charging their EV at our new charger, across from the post office on Main Street.