We all need a little light this year! And since we can't gather safely like in years past, GEDAC, Germantown Parks Commission & the Germantown Library have organized some festive holiday cheer that you can enjoy all month long from your car, your yard, your window or socially distanced & masked on-foot. Email aroundgermantown@gmail.com with any questions.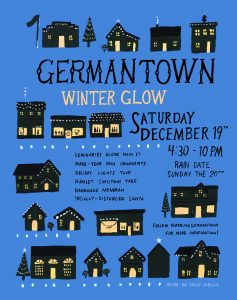 GERMANTOWN WINTER GLOW  
Sat, December 19th 4:30-10pm 
Rain Date Sun 12/20.
Luminaries along Main St:  
Starting at 4:30pm on 12/19/20 from Church Ave & Main Street and along Palatine Park Rd to Town Hall, the streets will be lit with luminaries.
Hamlet Christmas Tree:
Along with the luminaries we will light up the town tree at 4:30pm on 12/19/20
Socially-distanced Santa:
Like the rest of us, Santa is staying safe this year and practicing social distancing. Starting at 5pm on 12/19/20 the Germantown Fire Department will escort Santa through town. Starting at the Fire House, continuing down Palatine Park Rd to 9G, Maple Ave, Main St, Church Ave, loop back at Reformed Church, back down Main St, Palatine Park Rd and ending at Palatine Park. You are welcome to come down to Palatine Park and wave at Santa from your car.
Community- made Menorah
First annual Germantown Menorah in the hamlet park. Join us in celebrating Hanukkah, the Festival of Lights, with the first candle lit on Thursday 12/10/20.
Make-your-own ornaments kits:
Saturday 12/12/20 we'll be selling homemade ornaments and ornament kits to raise funds for the Germantown Library & Parks Commission. Swing by the hamlet or Palatine Park from 10am-1pm and purchase yours! Hang on the town tree or yours at home. All ornaments are made from natural materials & are biodegradable.